Why BSc.in International Transportation Management and Logistics (ITML)?
Maritime University in China offers a 4 year degree program on Logistic & transportation management. This four year program is built around fully practical activities, in the first six months students will be assigned to internships of their senior year. During their programme students will experience high-quality practical education with skills development. The programs run by CINEC, a high level of discipline and the development of a positive mindset are the primary concerns.
This program can be completed in Sri Lanka
ITML is fully recognized University Grant Commotion
Offer scholarships for best result students.
Internship is Guaranteed and full time job placements for best results
Why Maritime University (DMU) in China?
Photo by (© china-admissions.com)
The Chinese government's Dalian Maritime University is one of the country's largest maritime universities and institutions. DMU has a good reputation as a leading maritime teaching facility, with the International Maritime Organization recognizing it as such (IMO). This school, which was founded in 1909, has a long and illustrious history in marine education. DMU degree programs in Sri Lanka are recognized by the UGC.
Why chose CINEC Campus?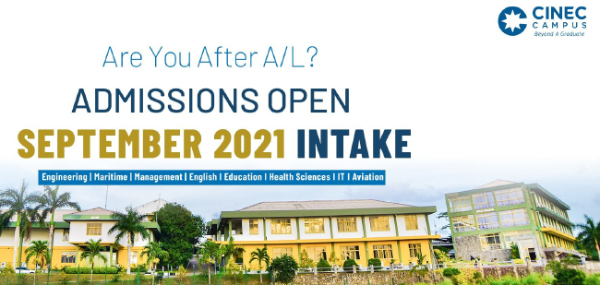 CINEC was founded in 1990. CINEC's main campus is in Malabe, one of Sri Lanka's most important educational centers. Every year, "CINEC campus" serves over 25,000 registered students. It offers around 210 certificates, diplomas, higher diplomas, graduate, postgraduate, and doctoral programs. Those recognized by the Sri Lankan government, as well as universities in Australia, China, Germany, the United Kingdom, the United States of America, and TAFE Colleges in Australia. "CINEC" has four branches: one in Northern Province, one in Eastern Province, and one in Colombo. CINEC is in charge of the Seychelles and Fiji State Maritime Institutes, with the goal of bringing them up to worldwide standards and recognition.
Why become Logistic & Management professional?
With the increasing rise in the retailing sector, there is a stronger demand for logistic and supply chain experts, which opens possibilities for Logistic and Supply Chain graduates to become one of the world's most in-demand positions. Obtaining a BSc in International Transportation Management and Logistics from Dalian Maritime University will provide you with valuable recognition in this high-demand profession.
Do you want to learn more about the program?
Call 0702002999 or WhatsApp wa.link/1l8nga for more information on the International Transportation Management and Logistics degree program.
Please see our eMarketing portfolio for more educational programs like this.