Latest E-Mail Campaigns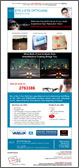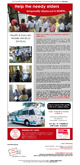 Web Advertisements
Web advertising will be the fastest form of advertising in the coming years. Sustaining an effective on line presence is an ongoing commitment that we make to all our customers. Our experience tells us how important online marketing is to ensure the success of your web advertising strategy.
Animated Web Ads, incorporating corporate positions and selling messages, have the added ability to bring a potential customer directly to the advertiser's Web site.
With our marketing experience to target and track consumer behavior and online trends, that speaks directly to qualified consumers at every possible point of online contact to influence your brand/audience interaction.
What More:
Increase your overall volume of web traffic
Increase your ROI with improved conversion rates
Optimize your landing page and website experience for each target audience
| | | | |
| --- | --- | --- | --- |
| | 01 Week Subscription | - | Rs. 500/= |
| | 01 Month Subscription | - | Rs. 1,500/= |
| | 03 Month Subscription | - | Rs. 3,000/= |
| | 06 Month Subscription | - | Rs. 6,000/= |
| | 12 Month Subscription | - | Rs. 15,000/= |
Web Ad Designing
JPEG & GIF - Rs. 250/=
Animation (Flash) - Rs. 1000/=